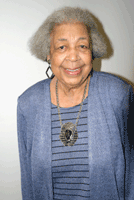 Mary Elizabeth Carnegie, ground-breaking nurse, educator, author, champion of the cause of African American nurses, and longtime member of AAHN died at the age of 91 at her home in Chevy Chase on February 20, 2008. We remember her fondly as a tireless leader in obtaining quality education and full recognition for the contributions of African American nurses. She graciously served as a mentor to generations of African American nurse leaders. In any open discussion of history presentations, she unfailingly alerted the audience to what African American nurses were doing in the area under discussion. She actively participated in AAHN up to the last year of her life, attending the 2007 AAHN Conference, co-sponsored by Pace University, in White Plains.
Mary Elizabeth Carnegie initiated the baccalaureate nursing program at Hampton University, where the archives are named in her honor. She was inducted into the American Academy of Nursing in 1976, serving that group as president from 1978-1979. Dr. Carnegie was named a Living Legend of the Academy of Nursing, the highest honor the profession offers, in 1994. She chaired the American Nurses' Association's Minority Fellowship Program Advisory Committee from 1988 to 1999, and was dean and professor of the school of nursing at Florida A&M University from 1945 to 1953.
She was the author of three editions of The Path We Tread: Blacks in Nursing Worldwide, 1854-1994, spent the years from 1953-1978 on the editorial staff of The American Journal of Nursing, was a senior editor of Nursing Outlook, and was the first editor of Nursing Research. She is credited with writing 85 articles including editorials in 30 journals, chapters and forewards to 20 books; she delivered over 400 speeches since 1943!
During the thirty years since her retirement in 1978, Dr. Carnegie has served as an independent consultant and as distinguished visiting professor for the schools of nursing at Hampton University, the University of North Carolina, Pennsylvania State University, Indiana University, University of Massachusetts, University of Michigan, and Virginia Commonwealth University. She also occupied endowed chairs at Adelphi University in New York and Memphis State University in Tennessee.
Among awards she received are the Agnes Dillon Randolph Award from the Center for Nursing Historical Inquiry at the University of Virginia, the George Arents Pioneer Medal from Syracuse University, the President's Award from Sigma Theta Tau international, and the Living Legend Award from the Association of Black Nursing Faculty in Higher Education. She was inducted into the American Nurses Hall of Fame in 2000, and received honorary doctorates from at least eight colleges and universities.
Although we will deeply miss her, Mary Elizabeth Carnegie's legacy will not be forgotten. The nursing profession is much the better for having had her among us.