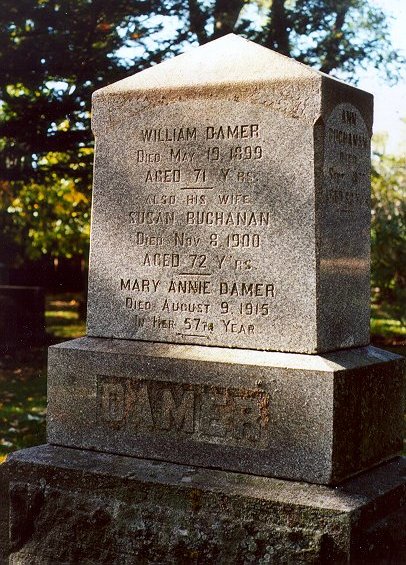 "She did not seek honor but honor sought her."
by Natalie Riegler
Though Annie Damer's career was in the USA, she was born in Canada on 30 November 1858 in the town of Stratford, Ontario. She was baptized Mary Annie, the eldest of five surviving siblings and raised in the Presbyterian faith. Her father was English and her mother Irish. By 1871 the family had moved to Toronto, where her father manufactured shoes. At the age of 24, Annie entered the New York City Training School which was connected with the Bellevue Hospital. Upon graduation in 1885, she took a course in law at the University of the City of New York, and worked at the Nurses' Settlement. For eight years she fulfilled the request of a dying mother to look after a young girl.
About 1899, Damer moved to Buffalo and worked as an investigator for the Buffalo Charity Organization Society. When the International Council of Nurses (ICN) decided to hold its 1901 Congress in Buffalo during the Pan-American Exposition, Damer, as President of the Buffalo Nurses' Association, became a vice-president on the organizing committee. At the time, she was also a member of the Exposition's Board of Women Managers and the Committee on Applied Arts. For the ICN she was in charge of local arrangements and an exhibit showing nursing work through the world.
In early 1904, Damer moved back to New York to take charge of the Bellevue Hospital's out-door department for tuberculosis. She continued her involvement with the profession's infrastructure and was elected president of the New York State Nurses' Association, served four terms as president of the Bellevue Nurses' Alumnae and twice held the office of president of the Associated Alumnae of the United States (the precursor of the American Nurses' Association (ANA)). As well, she became president of the American Journal of Nursing Company which owned the American Journal of Nursing. By October 1906, Annie Damer gave up her work at Bellevue Hospital and took charge of Echo Hill Farm and Convalescent Home in Yorktown Heights, New York which had been given to the Nurses' Settlement.
Her nursing and public health career stopped after a severe accident. In 1910, Damer was thrown from a carriage and spent the remaining five years of her life as an invalid. In 1914, ANA members made her an honorary member in "recognition of her pioneering efforts" as president. On 9 August 1915, in New York City where she lived with her sister, Damer died of myocarditis. Her body was returned to Toronto for burial in the family plot.
Annie Damer had a "calm, balanced mind" which fitted her for solving the problems of developing the nursing infrastructure and securing "legal recognition of nursing as a profession." She chose to use her "great executive ability," in the "humble, less-conspicuous branches" of nursing and spent her life uplifting the "rich and poor alike and in scattering the `pride, the lust, the sordid sloth which nourished sickness' monstrous growth." Damer was loved for her "large hearted devotion to her work and . . . service to humanity."

Close up of inscription on Annie Damer's gravestone. Photo by Natalie Riegler
Sources:
American Journal of Nursing (January 1901): 295; (Sept 1901): 900; (April 1904): 542; (October 1906): 64; and (October 1915): 74-75.
Baptism Record, Stafford Knox Church 1849-1905, Presbyterian Church Archives, Toronto.
Canada. Census 1881, Province of Ontario, District No. 134, East Toronto S. District, St. Thomas Ward Subdivision: 140.
Dombrowski, Theresa. "Annie Damer 1858-1915." In American Nursing: A Biographical Dictionary, ed. Vern Bullough et al, 74-76. New York: Garland Publishing, 1988.
Henry, Irwin W., comp. Robertson and Cook's Toronto City Directory for 1871-72 (Toronto: Daily Telegraph Printing House, 1871): 60.
Interment Register for the Years 1849-1874, 1875-1898, 1899-, Necropolis Cemetery, Toronto.
Toronto Directory for 1881, (Toronto: Might and Co., 1881), 74.