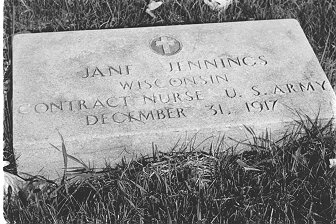 Janet Jennings is a one of a multitude of unsung " nurses " who served their nation in a time of war and then returned to obscurity.
Jane Jennings was the third of twelve children raised on a farm in rural Wisconsin. She was 16 before she was exposed to formal schooling. Much like Walt Whitman, when one of her brothers was injured in the Civil War, she traveled to Washington DC to do her part in the war. With no formal training as a nurse she volunteered for the Union Army corps of female nurses but was turned dowm by Dorothea Dix, because at 24 she was too young. Determined, she appealed to Dr. Bliss, head of all the Washington hospitals, and was put to work in one of the tent hospitals in Washington. Within weeks, she was in charge of several tent hospital units.
After the end of the Civil War she stayed in Washington working at the Treasury Department until she had to return home due to poor health. There she turned to journalism writing for Wisconsin newspapers and publishing two books about the Civil War: Abraham Lincoln, the Greatest American and The Blue and the Gray.
When the Spanish-American War began in 1898 Jane Jennings was 59 years old but she again felt the call to duty and volunteered as a nurse. She was sent to Cuba. At the end of the brief war, she sailed on the Seneca with convalescing soldiers, and two physicians, one of whom was also ill. At the end of the difficult trip, The grateful soldiers presented her with a scroll and called her the "Angel of the Seneca."
Janet Jennings died December 31, 1917, after a stroke. Over a quarter centrury later the community of Monroe put a marker on her grave.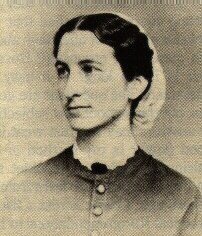 Janet Jennings
Photo: The State Historical Society of Wisconsin
Sources:
Cooper, S.S. Janet Jennings - Nurse in Two Wars. In Wisconsin Nursing Pioneers. Madison: University of Wisconsin, University Extension, 1968 pp. 5-6
Dexheimer, F. (1925). Sketches of Wisconsin pioneer women. Fort Atkinson: Press of W.D. Hoard & Sons, Pp. 18-20.
Nurse of Two Wars Remembered. Long Delayed Marker Dignifies Grave of Janet Jennings, "Angel of Seneca". Monroe (WI) Evening Times, 29 May, 1948.
Walsh, J.E. (Summer 1998). Forgotten angel: The story of Janet Jennings and the Seneca. Wisconsin Magazine of History (Summer 1998) 81: 267-93.